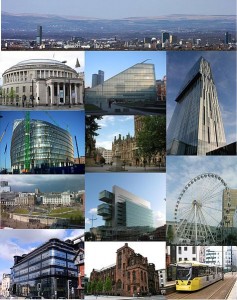 John Alker takes you around the city on a tour of Manchester's greatest sites and sights.
This is the ideal walk, for this is Manchester Uncovered; a taster, a teaser, a trip through town. It's a best of everything, taking in the old and the new, the ancient and the artful.
Where do we go and what are we likely to see? This is the usual route from the Visitor Centre: the city's most lavish Victorian cotton warehouse; Chinatown; one or two of the most interesting paintings in the Art Gallery; the architectural gems of King Street including the Reform club, the Midland Bank; Ship Canal House and why the Victorians brought the sea almost into the city centre; the Royal Exchange (former home of the world-wide cotton trade, now a spectacular theatre); St Ann's Church; the Hidden Gem church; the Town Hall, including the hidden courtyard; the Midland Hotel; the site of the Peterloo Massacre; the revamped Free Trade Hall (below), which was the city's most important public building and is now its only 5-star hotel; finishing at the awesome John Rylands Library.