You've heard the songs, seen the groups, played the records…now visit the sights and hear the stories where Manchester music history was made on New Manchester Music Tours magic bus trip devised by Ed Glinert, official Manchester guide and legendary music historian, co-author of the Fodor's Rock 'n' Roll Traveller series and former 
Mojo
 production editor.
We will head "through the city limits" to the legendary shrines, the famous sights, the celebrated sites and hear those great sounds as we go.
* This is a 3-hour bus tour, with sensational stories and music accompaniment, starting from Albert Square, opposite the Town Hall.
Our set list is taken from most of the following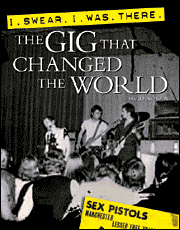 The Free Trade Hall
Once of Britain's top concert venues, it was where Bob Dylan was booed in May 1966, where the electricity went off during a Pink Floyd gig in 1972, and was where the Sex Pistols created the Manchester music scene with two gigs in the small room upstairs, the Lesser Free Trade Hall, in 1976.

The Hacienda
"There's a club if you'd like to go/
You could meet somebody who really loves you/
So you go and you stand on your own/
And you go home and you cry and you want to die"
Morrissey, "How Soon Is Now?"1984
Salford Lads' Club
As photographed by Stephen Wright, who worked with music tours guide Ed Glinert on City Life, for the inside gatefold of the 1986 album The Queen is Dead. 
The Ritz
"I was walking down Oxford Road dressed in what they call the mode/
I could hear them spinning all the smash hits at that mecca of the modern dance, the Ritz."
John Cooper Clarke, "Salome Maloney", 1978
The Cemetery Gates
"A dreaded sunny day, so I meet you at the Cemetery Gates/
Keats and Yeats are on your side"
Morrissey, "Cemetary Gates", 1986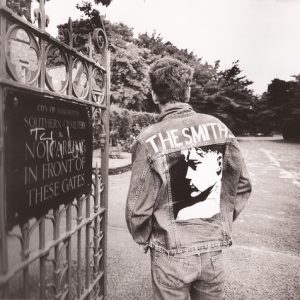 The BBC building where Paul failed the audition
It was 1962 and producer Peter Pilbeam gave a "Yes" for John but a "No" for Paul. Really.

The Boardwalk
Where Oasis made their debut on 18 August 1991 – without Noel. When he asked what he thought of the gig he claimed it was the worst he'd ever seen. When Noel was asked if he would like to become their roadie, he explained that on the contrary he wanted to be their main songwriter. He picked up a guitar and played them a new song he'd just written: "Live Forever". They immediately gave in to all his demands.
35 Mayfield Road, Whalley Range
"What do we get for our trouble and pain?/
Just a rented room in Whalley Range"
Morrissey, "Miserable Lie", 1984
The King's Arms, Salford
Owned by Paul Heaton, this is where the DJ Andy Kershaw discovered who shouted "Judas" at Bob Dylan at the Free Trade Hall.
Strawberry Studios
Founded and owned by 10cc, Joy Division recorded their remarkable debut album, Unknown Pleasures, here.
Dry Bar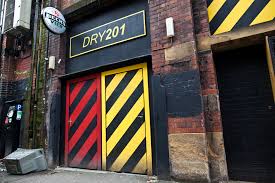 The prototype for the now ubiquitous "designer" bar, Dry opened in 1989 and was owned by New Order. Here an irate Shaun Ryder fired a gun at the wall, as documented in the film 24 Hour Party People. The bullet hole still can be seen today.
John Cooper Clarke's Beasley Street
"Where the action isn't/That's where it is/
State your position/Vacancies exist/
In an X-certificate exercise/
Ex-servicemen excrete/
Keith Joseph smiles and a baby dies/
In a box on Beasley Street"
John Cooper Clarke, "Beasley Street", 1980
Church of the Holy Name
"I was minding my business/
Lifting the lead/
Off the roof of the Holy Name Church"
Morrissey, "Vicar In a Tu Tu", 1986
Sifter's record shop
"Mr Sifter sold me songs when I was just 16/
Now he stops at traffic lights/
But only when they're green"
Oasis, "Shakermaker", 1994
The house where the Smiths were born
Johnny Marr visited Morrissey at 384 Kings Road, Firswood, in 1982 and one of music's most potent songwriting partnerships was born in the cramped upstairs bedroom where Morrissey had written his rejected scripts for Coronation Street and acerbic letters to the music magazines.
The original Factory Records HQ
In the late 1970s every city had its do-it-yourself independent record label. Manchester had one of the best – Factory – run by Tony Wilson and based at 86 Palatine Road, Withington, as the stable for Joy Division, the Happy Mondays, A Certain Ratio, New Order.
Tony Wilson's House
Tony Wilson was the prime catalyst of the Manchester music scene and he lived on Old Broadway, the most prestigious street in Manchester. But being in the public eye had its dark side…
* This is a 3-hour tour, starting from Albert Square opposite the Town Hall.
Please book with eventbrite.
Sat 1 July, 10.00am.
Sat 5 Aug, 2.00pm.
Bank Holiday Mon 28 Aug, 2.30pm.
As Ian Curtis sang: "I've been waiting for a guide…"