Tragic deaths and accidental deaths; homicides and assassinations. Severed heads and screaming skulls. Hoax deaths and bloody deaths. Death by hanging, death by shooting, instant death and slow tortuous death.
These are gruesome, ghastly and ghostly stories, especially when they involve those who weren't supposed to be dead.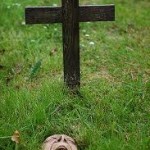 Take the case of Manchester man John Beswick. He woke up some time in 1750 to find himself in a confined space, and then realised it was his own coffin. He banged on the roof, and was rather relieved to find a crowd of people on the other side ready to release him. They were the mourners at his funeral. He wasn't dead; just resting.