Next public tour of Ted Hughes country: No dates yet.
Meet: Mytholmroyd station, time to be arranged, possibly 12.30pm.
Booking: Soon.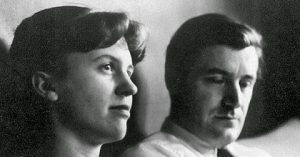 Ed Glinert, a Penguin Classics editor, leads this guided tour recalling the poetry of the remarkable, elemental, visceral 1980s/1990s poet laureate at his West Yorkshire haunts.
Before you read on, here's a great review from a previous customer:
"Thank you so very much Ed for a fabulous walk today. I thoroughly enjoyed every aspect and have returned to my Premier buzzing. Unexpectedly very moved to see Plath's grave at the end….very beautifully adorned with cornflowers, peonies and white bluebells, in such an amazing village as Heptonstall.
I do thank you for your input and knowledge-much appreciated. This was my sixth sponsored walk, the next being Haworth tomorrow and Monday; thereafter Oxford and Edinburgh. Will definitely look up the programme and maybe touch base with you again sometime.
Blessings and regards,
Carole L"
***
The tour starts at Mytholmroyd station so that we can visit Ted's birthplace, and the sights and sites of his childhood. After a half an hour or so in Mytholmroyd we head along the Rochdale Canal to Hebden Bridge and the Stubbing Wharf pub, commemorated (and condemned) in verse.
After a quick break for liquid reinforcement we're off into the hills to find Lumb Bank, home of the Arvon Centre, an 18th Century mill-owner's property where Ted lived.
At that stage we'll be in the absolute middle of nowhere but we need to get to Heptonstall to see Sylvia Plath's grave. There are two routes. One is mundane by narrow road. The other is a precarious cliff-top trek from which we can see at the bottom the skeletons of previous fellow walkers who didn't make it.
Only joking!
Heptonstall is an extraordinary adjacent hilltop village trapped in time. About 1718. Ruined by getting electricity yesterday. Here are the graves of the notorious coin clippers and the feted Sylvia Plath whom Hughes drove to suicide.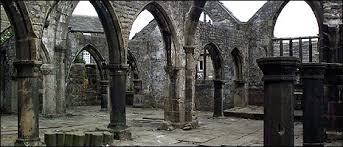 • We also run a "Yorkshire of Yore" coach tour, during which we visit Haworth, Holmfirth, Halifax (the glorious Piece Hall), Heptonstall and of course Hebden Bridge.