What's happening with New Manchester Walks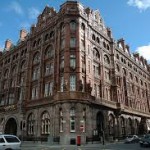 THE DE-LUXE MIDLAND HOTEL TOUR
The 4th of May has just passed. It was the date when Rolls and Royce are believed to have met in the Midland Hotel and decided to go into business together. What a great tale. Well, Ed Glinert has now done some serious research into this story and come up with some startling twists. This is just one of the reasons why our Midland Hotel tours are selling out fast.
Such has been the demand to hear Ed Glinert & co. tell the real story of the hotel: entertaining and enlightening anecdotes about Winston Churchill, John Barbirolli, Michael Collins, Alex Ferguson, Albert Tatlock, the King of Afghanistan, George Best, Johnny Cash, Michael Collins, Van Morrison, Theresa May…
Public dates:
• Sun 4 June, 2.30pm or 4pm (!SOLD OUT!)
• Sun 30 July, 2.30pm or 4pm. Tickets on sale with eventbrite.
• Sun 20 August, 2.30pm or 4pm. Tickets on sale with eventbrite.
Meet outside the hotel on Peter Street.
• Ideal for private tours for groups of around 20 people.
• Hear the history, soak in the sleek style and lounge in its luxurious locations. What a great way of spending two hours or so!
• To book, press "Continue Reading" and click on the date you require.
Continue reading →