What's happening with New Manchester Walks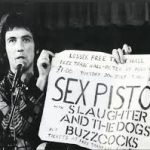 PETE SHELLEY R.I.P.
It's very sad news for Manchester with the untimely death of Pete Shelley, co-founder and mostly lead singer of Buzzcocks.
Let's not forget that Buzzcocks (never The Buzzcocks) were pioneers. They were the first ostensibly local Manchester group in Year Zero: 1976. The Manchester area had not had a really local major group since The Hollies. 10cc were too internationalist in outlook. Van Der Graaf Generator were clearly from another planet. But Buzzcocks were clearly local. Nobody born more than 5 miles from Irlams o' Th' Height could understand anything they were singing about on that first wonderful, peerless, still awe-inspiring release, the Spiral Scratch EP, released early in 1977.
At first
Continue reading →