What's happening with New Manchester Walks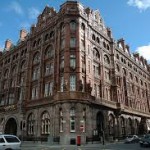 THE MIDLAND HOTEL – THE ROLLS-ROYCE OF TOURS
Have you seen the magnificent new bar at the Midland, Manchester's most famous hotel? It's a work of art.
Have you seen the plaque at the front, with its key date, 4 May 1904? This was the date when Rolls and Royce are believed to have met in the Midland Hotel and decided to go into business together. What a great tale. Well, Ed Glinert has now done some serious research into this story and come up with some startling twists. This is just one of the reasons why our Midland Hotel tours are selling out fast.
So come with us to hear the real story of the hotel: entertaining, enlightening and expertly researched anecdotes about Winston Churchill, John Barbirolli, Michael Collins, Alex Ferguson, Albert Tatlock, the King of Afghanistan, George Best, Johnny Cash, Michael Collins, Van Morrison, Theresa May…
To book the tour (or tea and tour) press Continue Reading and click the date.
Sun 24 Sep…Sun 8 Oct…Sun 19 Nov…Sun 3 December…Sun 7 January…Sun 4 February…Sun 4 March…Sun 1 April (Easter Sunday).
• Book a private tour for your group! We catered for 60 very happy ladies from Wilmslow U3A recently.
Continue reading →