What's happening with New Manchester Walks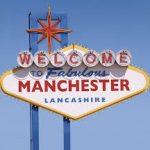 COMING TO MANCHESTER? BOOK A TOUR WITH THE EXPERTS!
If you're in Manchester for a few days, a day, an hour or two, contact us to be taken round with an expert guide who will make the city come alive.
We are New Manchester Walks, a walks, talks and tours outfit, open to all guides who want to promote the history of Manchester, the world's first industrial city – THE industrial strength city.
We provide an unrivalled and unmatchable programme of historical trips and tours in and around Manchester: from the Gothic glories and cotton palaces of central Manchester to the gleaming new dock side towers of Salford Quays; from the coal face of industrial Eastlands to the winding alleyways of Knutsford in leafy Cheshire.
Continue reading →