What's happening with New Manchester Walks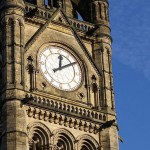 MANCHESTER TOWN HALL EXPERT TOUR: LATEST DATES
This is why our Town Hall tour is so good. New Manchester Walks's Ed Glinert journeyed down to the capital to take out of the London Library two hefty volumes on Ford Madox Brown's paintings. Books which aren't available in Manchester and can't be bought for love or money. So now we know the real stories behind the Town Hall Murals that so captivate our customers.
Here is some basic information about the Town Hall tour. The cost is £8, not £2.50 as some customers have strangely alleged, and that's for a full tour involving the building's history, its politics, statues, paintings and architecture. At £8 that is incredible value. £2.50 would diminish the product and undercut the agreed price of official Manchester tours. And no, we get no subsidy from the Town Hall for this tour.
Make sure you book your place, for the Town Hall will be closing for repairs for five years in January 2018.
Next tours. Please book with eventbrite. Press Continue Reading and click the link:
* Fri 21 July, 11am.
* Mon 31 July, 4pm.
* Wed 2 August, 1.30pm.
* Mon 7 August, 1.30pm.
* Wed 9 August, 1.30pm.
Continue reading →