What's happening with New Manchester Walks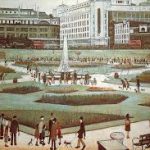 Walking tours return Saturday 24 April! Zooms continue as well. Booking on Eventbrite
Walks and Zooms! Zooms and Walks! Yes, life has opened up and no, we at New Manchester Walks have not joined the European Super League of tour guides, and no, Ed Woodward has not joined New Manchester Walks. Join us for an entertaining, expert, enlightening opening up of Manchester history. 
Next Walks
Sat 24 Apr, Discovering Manchester – the Official Tour, 10.45am, Central Library.
Sat 1 May, Marx & Engels in Manchester (on May Day), 10.30am, Engels statue, HOME.
Sun 2 May, On the Trail of L. S. Lowry, 2.30pm, TfGM Travelshop, Piccadilly Gardens.
Next Zooms
Fri 23 Apr, Underground Manchester, 8pm.
Sun 25 Apr, Strangeways – On the Anniversary of the day the riot ended, 11am.
Sun 25 Apr, The Ford Madox Brown Murals at Manchester Town Hall. 2pm.
Sat 1 May, The Pre-Raphaelite Paintings at Manchester Art Gallery, 2pm.
Continue reading →