What's happening with New Manchester Walks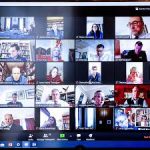 Zoom Tours Are Here!
Hi everyone,
Ed Glinert of New Manchester Walks here. Hope everyone's well. Given the current restrictions about going on a tour with 31 people and sitting in a restaurant with 20 friends you'll be very pleased to know that thanks to the wonders of new technology you can now come on a tour without leaving the comfort of your home, simply by joining us on Zoom!
It's simple, it's easy, it's fun, it's different, it's good, it's modern. It's cheaper…
Continue reading →