What's happening with New Manchester Walks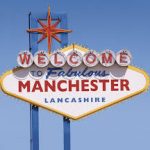 STUDENT GROUPS, U3A, SOCIETIES, CLUBS, WORKS OUTFIT…book a private tour with us!
Our Blue Badge and Green Badge guides specialise in tours of Manchester and beyond: the Midland Hotel and Manchester Town Hall, tours dealing with politics, architecture, Hacienda-era music, football history, industrial heritage, science, religion and art.
That just about covers everything! So what better way to entertain your social club, historical society or corporate clients than with a private New Manchester Walks tour, talk, walk or canal cruise?
Particular popular for private bookings are:
* The Canal Cruise.
* Manchester Town Hall Murals
* The Grand Hotels of Manchester.
* Peterloo Massacre
* John Rylands Library
* Marx & Engels in Manchester
* Angel Meadow
* Hacienda-era music
* The Pankhursts
* Ancoats . . .
We have more than a hundred to choose from in and around Manchester
Continue reading →