What's happening with New Manchester Walks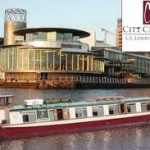 Manchester Historic Canal Cruise – SATURDAY 22 OCTOBER
Cruise the Manchester waterways with us as we watch Manchester, Trafford Park and Salford glide past from the comfort of the L S Lowry or Emmeline Pankhurst boat. The Manchester Ship Canal, Bridgewater Canal and River Irwell are our watery highways to reach Media City, the Coronation Street studios and the old docks of what was Britain's 4th biggest port.
We even go through the only Manchester lock – at Pomona – an unusual and exhilarating experience as the boat rises or falls to meet the level of the other waterway and the fortress-like walls of the lock disappear from view.
• Expert commentary provided by the queen of canal tour guides, Salford-born Sue Grimditch.
• Please book through www.quaytickets.com, 0843 208 0500. Cost: £18.
• Meet at the water's edge outside the Castlefield Hotel, Liverpool Road.
And here's a rave TripAdvisor review…
"As somebody who has worked in and around Manchester all my life I thought I knew it well – but No I didn't know it at all. The guide was excellent and kept coming up with little gems that made this trip so interesting and pleasurable. The family run boat was really well run by very pleasant staff and was clean and comfortable. I would not hesitate to recommend both visitors and locals to give it a go."
**The boat is heated with licensed bar and loos onboard**
Please book through  www.quaytickets.com, 0843 208 0500
**more cruise dates coming soon**
Continue reading →