What's happening with New Manchester Walks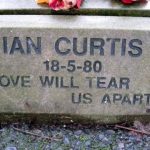 Could you join us to deliver a Manchester Music tour on Saturday afternoons?
We are working with various guiding bodies to offer a FREE (with tips) Manchester music walking tour focussing on the Hacienda Years every Saturday afternoon. The only problem is, we don't have the guides.
We are looking for a small squad of guides. You don't have to go on a course to get a coloured badge, but you do have to know your Manchester music history inside out, you do have to have a reasonable knowledge of modern music outside Manchester, you do need to know the difference between "Do The Du" and Husker Du, you do have to play the right sounds at the right location, you do have to be presentable, personable and entertaining, and yes, we will test you!
If you can get past our GCHQ-styled test, then you can earn a wodge by walking "through the city limits", taking folk from the Hacienda (as was) to the Ritz (as is); from Tony Wilson's city centre pad to the Lesser Free Trade Hall (well, almost the same spot). The better you perform, the more dosh you will trouser in tips. Simples! And if we get the guides, Visit Manchester will give us a big promo.
Continue reading →