What's happening with New Manchester Walks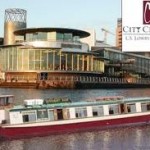 Cruise the Manchester Waterways With Us – Sun 2 November now filling up!
REGULAR CRUISE: Sun 2 Nov, Sat 15 Nov at 11am. £18.
XMAS CRUISE with mulled wine and mince pies: Thu 4 Dec, Fri 12 Dec, Wed 17 Dec, Sun 21 Dec at 11.30am. £23.
Glide past the new Coronation Street studios, Media City, Manchester United, The Imperial War Museum North, the Lowry Centre, the old docks of what was Britain's 4th biggest port, Mode Wheel Locks, Castlefield and Spinningfields!
Expert commentary provided by the queen of canal tour guides, Salford-born Sue Grimditch.

Continue reading →