Within three years Granada/ITV will vacate its 50-year home at the edge of Castlefield. The company's flagship programme, Coronation Street, will soon be filmed from a new purpose-built site in Trafford Park.
So what will happen to the Coronation Street set; those historic cobbles, the site where filming has taken place since December 1960. what will happen to Granadaland!? Will it be flattened and redeveloped for residential use or be transformed into one of the country's greatest tourist attractions?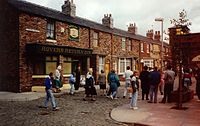 From 1988-99 the site was partly open to the public as the Granada Studios Tour. It was a popular and profitable tourist attraction. Coachloads of visitors and tourists rolled up for the unmatchable thrill of walking along the cobbled street, drinking in the Rovers' Return, and to a lesser extent to peruse the sets of Granada's less-feted shows. The attraction closed when Granada began to film Coronation Street more regularly, not because of lack of public interest. Tours of the set still take place occasionally for private groups on an ad hoc basis.
The tourism potential of this site is enormous and of vital interest for a city that is trying to become a major player in attracting large numbers of big-spending visitors, not just from Britain but from around the world.
All it needs is an enterprising entertainments' corporation to buy up the land and the soon-to-be-abandoned buildings – in particular the outdoor Coronation Street set and surrounding warehouses where the indoor filming takes place – and redevelop them. Okay, maybe there would be some logistics to smooth through as regards copyright but that wouldn't be insurmountable.
I can just see the new attraction – "50 Years of Coronation Street". What a boon for Manchester. Of course it would share similarities with the 1990s tour but the main difference would be that there would be no other demands on the site – no filming being done – and therefore no need to have limited opening times. It would also be devoted to Coronation Street. The Granada Studios Tour suffered from being unsure whether it was a celebration of Northern culture or an American-styled theme park.
Public interest in the new venture would be considerable and greater than when the original attraction opened in the 1980s. After all there's been another twenty-plus years of stories and characters. A whole new era of Street life to represent.
There would be no shortage of customers wanting to walk down the cobbled street and sup in the Rovers Return. This after all is the site where 50 years of televisual history devoted to the world's greatest soap had taken place. The fact that filming was now being done two miles away behind high walls would be immaterial.
Who would run such an attraction? The obvious answer is the Museum of Science and Industry (MOSI) which occupies a similar-sized area adjacent to ITV/Granada. A "50 Years of Coronation Street" attraction would be an exciting adjunct to what the museum currently offers. Of course it would require an admission fee, but that wouldn't be a problem, for the public which in the past paid handsomely to see the set when it was the Granada Studios Tour.
The cost of transforming what is there already would be minimal given the size and scope of the site and would easily be repaid in admission prices. However MOSI probably can't afford to get involved, despite its new link with London's Science Museum, so it is down to a more traditional entrepreneur experienced and skilled at running such attractions.
Perhaps the Manchester Evening News, always keen to promote Corrie, stepped in to launch New Manchester Walks' "Save Our Street" campaign and make sure that a unique slice of local history is not lost forever.