Next tour: We had a great walk in the rain in Wednesday 30 September 2020. Hopefully the next one will be crispy dry. No date yet.
Meet: Just outside Hebden Bridge station.
Booking: to book privately, please e-mail info@newmanchesterwalks.com.
Nestling in the Calder Valley, wired with wild waterways, is the idyllic village of Hebden Bridge, so hip it's twinned with Chorlton-cum-Hardy and wherever Tom Waits is currently living. Here, in what used to be known as "trouser town" before the Corbynistas colonised, are sweeping vistas of heavy-hanging hills, comfort blanket-canals and enough independent shops to satisfy the most voracious windowlicker.
Hoisted up a mile higher is archaic Heptonstall where time stopped in 1730, a hamlet frozen in aspic and antiquity with the spookiest derelict church and the grave of Sylvia Plath.
This is a hard road. Bring your boots and enough loose change for a pint of Yorkshire's best.
• Please check the weather first. If heavy rain is forecast we will have to abandon ship till the next time. Phone New Manchester Walks on 07769 29 8068 first if in doubt.
Not this tour, but sometime in the future
We recall the poetry of the controversial 1980s/1990s poet laureate with this guided tour of his West Yorkshire haunts.
The tour starts at Mytholmroyd station so that we can visit Ted's birthplace, and the sights and sites of his childhood. We then walk to Hebden Bridge for a quick saunter around what used to be known as "Trouser Town" and off to the Stubbing Wharf pub, commemorated (and condemned!) in verse. After a quick break for liquid reinforcement we're off into the hills to find Lumb Bank, home of the Arvon Centre, an 18th Century mill-owner's property where Ted lived.
At that stage we'll be in the absolute middle of nowhere but we need to get to Heptonstall to see Sylvia Plath's grave. There are two routes. One is mundane by narrow road. The other is a precarious cliff-top trek from which we can see at the bottom the skeletons of previous fellow walkers who didn't make it.
Only joking!
Heptonstall is an extraordinary adjacent hilltop village trapped in time. About 1718. Ruined by getting electricity yesterday. Here are the graves of the notorious coin clippers and the feted Sylvia Plath who Hughes drove to suicide.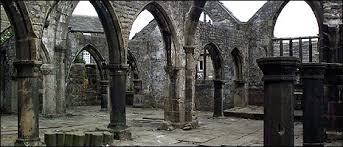 • We also run a "Yorkshire of Yore" coach tour, during which we visit Haworth, Homfirth, Halifax (the glorious Piece Hall), Heptonstall and of course Hebden Bridge.