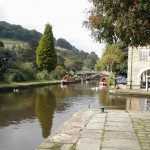 Next tours: Sun 11 June 2017.
Meet: Hebden Bridge railway station, 1pm.
Warning: Please check the weather first. If heavy rain is forecast we will have to abandon ship till the next time. Phone New Manchester Walks on 07769 29 8068 first if in doubt.
Hebden Bridge features as part of a new series, historical rambles, lots of walking amidst snapshots of local history. A kind of "Hills, Hedgerows, History and Hearty Ale".
We start at Hebden Bridge railway station, a throwback to the golden age of steam, saunter around what used to be known as "Trouser Town" but is now the right-on capital of boho land; even more so than Chorlton. Which is why it has a Tory MP!. We then head into the hills, past the church of St James the Less (Less is more; Thomas More) and through the delightful Colden Water valley to Lumb Bank, home of the Arvon Centre, an 18th Century mill-owner's which once belonged to the great and insufferable poet Ted Hughes.
At that stage we'll be in the absolute middle of nowhere but we need to get to Heptonstall. There are two routes. One is mundane by narrow road. The other is a precarious cliff-top trek from which we can see at the bottom the skeletons of previous fellow walkers who didn't make it.
Only joking!
Heptonstall is an extraordinary adjacent hilltop village trapped in time. About 1718. Ruined by getting electricity yesterday. Here are the graves of the notorious coin clippers and the feted Sylvia Plath who Hughes drove to suicide.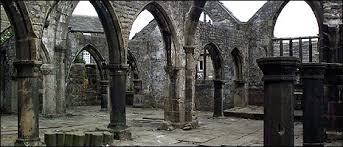 • We also run a "Yorkshire of Yore" coach tour, during which we visit Haworth, Homfirth, Halifax (the glorious Piece Hall), Heptonstall and of course Hebden Bridge.