Next tour: During the 2018 Science Festival.
Meet: Art Gallery entrance, time tbc.
John Dalton was Manchester's first great scientist and the one man most responsible for making Manchester a city of science. Born in the Lake District in 1766, he came to Manchester to teach maths at the Academy which stood where the Peace Garden can be found and lived at various addresses nearby in what is now Chinatown.
Dalton conducted experiments with gases at the Literary & Philosophical Society's rooms in George Street (the last Town Hall Mural depicts him and his assistant gathering marsh gas in a pond in Old Trafford) and there devised his ground-breaking Atomic Theory, published in 1803, which changed the way the world considered matter.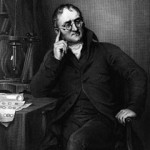 In his paper Dalton proposed things that everything is composed of atoms belonging to different elements and that compounds are formed from atoms of the constituent elements.
The scientific world soon had to change its understanding of matter, but what was the practical application? In Manchester, within a generation, cotton merchants were creating new cloths dyed with colours formed using Dalton's calculations – cloth that didn't run in the wash and helped Manchester secure its place as the world centre for cotton production and manufacture.
But that was not Dalton's only contribution to science. He also devised new theories about the weather and colour blindness, the word for which in some European languages uses his name.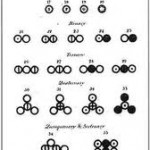 At the height of his fame John Dalton was invited down to London to be presented to the king, William IV. William asked Dalton: "How you doing in Manchester?" to which the scientist replied: "Well I don't know. Just middling, I think."
On the John Dalton walk we explore the man behind the maths and molecules, recalling his haunts and habitats, and how this humble figure created modern Manchester.