Next tour: Wed 15 Feb 2012.
Meet: Manchester Visitor Information Centre, directly above the secret state cold war nuclear bunker (believe it) at exactly 2.30pm.
Bring: The documents. Those ones.
Beware: Guides who may not be guides. Fellow walkers who may not be fellow walkers. Tour locations that aren't tour locations.
End: Citing diplomatic immunity in a third world banana republic while watching a DVD of Our Man In Havana on an endless loop.
For More Information: Please send a s.a.e. to Mr. John Smith, MI9, Whitehall.
****
The following guide to the various security services is top secret information for your eyes only. Read it, print it, memorise it and destroy it.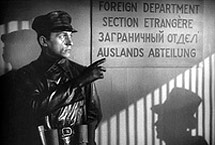 MI1 – Codebreaking
MI2 – Russia and Scandinavia
MI3 – Eastern Europe
MI4 – Aerial reconnaisance.
MI5 – Internal security.
MI6 – Protecting Britain's interests overseas.
MI8 – Military communication interception.
MI9 – Covert operations.
MI14 – German specialists.
MI15 – German specialists.
MI17 – extraterrestrial matters.
MI19 – PoW debriefing.