Next tour: Tue 5 February 2019, 2.15pm.
Meet: Victoria Station wallmap.
Please book with eventbrite here. 
***
Chetham's
The Tudor buildings occupy the site where Manchester's mediaeval lords of the manor built their house on high ground, overlooking three waterways. In 1421 the manor house was rebuilt and extended as a college of priests which after a hundred years of peace became subject to the regular and violent religious upheavals of the period.
When the building lay in ruins after the English Civil War, a rich local merchant, Humphrey Chetham, bought the site to fulfill his dream of opening a school for poor boys and a library. Chetham's Hospital (never a place for treating sick people, but an institution devoted to hospitality) opened in the 1650s. Pupils had to wear a huge smock, and new boys a smock that had just been vacated by a departing pupil, which they were expected to grow into, even if it swamped them for many years. The school is no longer so antiquated and since 1969 has been a music school.
The library retains its vintage fittings – such as a bed slept in by Bonnie Prince Charlie himself – and the table where Marx and Engels read so many heavy duty works on economics and politics.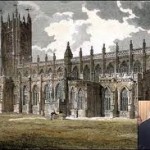 Manchester Cathedral
An ancient church that dates back to the 8th century (according to flimsy records), it was only upgraded into a cathedral as recently as 1847. Four hundred years earlier it had been promoted by Henry V from a parish church to a collegiate church (a church with a college attached). The college is now Chetham's (see above).
Over the centuries the Cathedral has been heavily rebuilt (the main architect left his signature inside, as we'll you show you), has had its riches confiscated by Henry VIII's men, been attacked during the English Civil War, seen its services disrupted (by Ann Lee, founder of the Shakers cult), been bombed by the Nazis, had its windows blown out by the IRA, and its sanctity ridiculed by the makers of a video game. But it's still here, intact, its mysteries about to be explained by our tour guide.
Come with us as we open up the secrets of mediaeval Manchester.