Next 2013 tours: Fri 12 Apr (11am), Thu 23 May (11am).
Meet: Outside St Ann's Church.
The Royal Exchange was the parliament of the cotton lords, the centre for cotton trading in the world's leading cotton trading city. But this baroque palace is now home to the revered Royal Exchange theatre, one of the largest theatres-in-the-round in the world.
For more than 150 years cotton merchants came here to cement deals with all manner of like-minded businessmen: yarn agents, bleachers, spinners and shippers. Business day was Tuesday and Friday lunchtime – "High 'Change" – when some 3,000 merchants would fill what was the largest trading room in the world.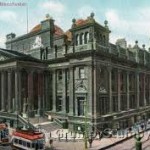 The building closed as a cotton exchange in 1968, and after years of uncertainty, which included plans to convert it into an underground railway station, opened for theatre on 15 September 1976 with Laurence Olivier as guest of honour.
Since then its programmes and performances have become legendary, with stars such as Tom Courtenay, Helen Mirren and Kate Winslet featured.
This is one of Manchester's greatest buildings, with a history to match, that brings in Friedrich Engels, Queen Victoria and Vanessa Redgrave. We spend around half an hour here, often with a peek into the auditorium itself if there are no rehearsals taking place, and then off to the John Rylands Library, another formidable cotton palace for a longer tour.