Next tour: Thu 29 Sep 2016.
Meet: Oxford Road station, 11am.
Rivers clogged with excrement and decomposing bodies. Rampant crime. Factories vomiting toxic plumes and changing the colour of the horizon for miles around. Is this Manchester today? Not quite.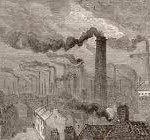 People came from afar to gasp at the horrors of Manchester, the world's first industrial city, with its death and disease, with its squalor, chaos and deprivation.
But this was also a city of style and sophistication. The grandest of Gothic architecture; prime progress with the advent of the railways; the birthplace of trade unionism and the suffrage movement.
Manchester: the shock city of the Victorian age.
Relive the 19th century from the safety of the 21st century.