Next tour: No public dates yet. To book privately, contact New Manchester Walks. (We do run this tour regularly for Spice Manchester).
Meet: Malmaison Hotel, 3 Piccadilly, time: tbc.
The Fairfield Moravian Settlement is one of the great wonders of Manchester. A charming, picturesque village, suffused in quiet elegance and secluded splendour, built in the 18th century for a religious sect which now provides the perfect antidote to the bustle of the city.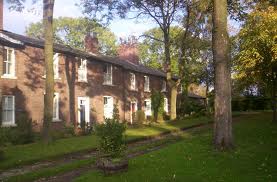 We reach it along the Ashton Canal, constructed in the 1790s to carry coal into Manchester. It was then an isolated waterway, unconnected to any other rivers or canals, but it has been an integral part of the Manchester waterway network since it was joined with the Rochdale Canal at the rather oddly-named Paradise Wharf near Piccadilly in 1800.
Industrialised for nearly two centuries, the Ashton Canal rotted away in the 1970s, but it has since been lovingly restored for strollers, walkers and flaneurs, which is just as well, for it has a rich history and exciting topography.
And so we follow its route, from its inception near the city centre, past the steepest street in the world, the oldest skewed bridge in the country, Piccadilly Village, the Chips Building in Ancoats, the old rotting industrial heartland of East Manchester, the strangely-named Holt Town, the site of the Bradford Colliery (a vast football stadium has been built on top of it which just happens to be home of the champions of England) and the Velodrome to the Georgian splendour of the Fairfield Moravian Settlement.
* This is longer than most of our walks and could last about 3 hours. Easy access back to Manchester city centre from Droylsden Metrolink stop.