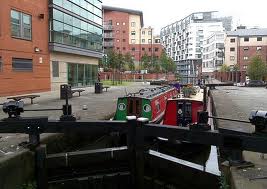 Next tour: Not sure yet.
Meet: Malmaison Hotel, No. 3 Piccadilly, 2pm.
Booking: Please press here to book with eventbrite.

Manchester is a city built by the water, made by the water, and right by the city centre is Britain's canal delta, where the Bridgewater, Rochdale and Manchester Ship Canal close in by the rivers Irwell and Medlock.
This tour trails the towpath from Piccadilly to Castlefield, keeping the Rochdale Canal on one side as we head through dark passageways, eerie industrial yards and past snazzy waterside apartments on a Manchester unseen from the roads and trams. This is the Victorian highway that brought coal and cotton into the city, was left to rot away in the 20th century, but has now been lovingly restored.
Forget the Grand Canal of Venice, this is the Grand Canal of Manchester!