Next tour: Fri 2 September at 12 noon.
Meet: outside Deansgate Railway station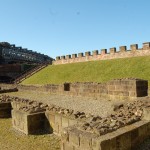 The Roman birthplace of Manchester and setting for its first modern-styled industry is now a tourist trap, thanks to the sprawling Museum of Science and Industry, which incorporates the world's first railway station, as well as a popular night time centre with its bars set near the canal basin.
The Romans built four successive forts in Castlefield, south of modern-day Liverpool Road, and the shape of the terrain led them to call the locale "Mamucium" – place of the breast-shaped hill. The first fort, built c. 79 AD, was simply a ditch and mound with timber defences on top, but over the next three centuries it was developed into a major fortification. Around the fort a village or vicus grew to supply the needs of the soldiers. There were drinking dens and brothels, and an active smithing industry, as discoveries of more than 30 small furnaces during Barri Jones's 1972 dig showed.
After the Romans left the area around the year 410 AD the fort was abandoned, and Manchester grew on a separate sight, further north by the Cathedral. As the population of Manchester grew locals began plundering the site for building material. By the 20th century there was almost no trace of the last fort still remaining.
Ironically, given the antiquity of this area, it was here that some of Manchester's first modern-styled industry began in 1764 after the Duke of Bridgewater's Canal opened to bring coal to Manchester. The Rochdale Canal followed the Bridgewater Canal in 1805, and 25 years later it was in Castlefield that the world's first railway station – Liverpool Road – was opened.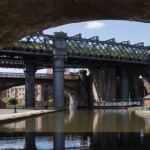 By the mid-19th century Castlefield was a canal and rail centre, and a hub of industry with coal merchants, dyers and vitriol manufactures. The area's industrial importance continued until the 1960s, but after the goods traffic left Liverpool Road station, and the warehouses by the canals closed, Castlefield lost its purpose and it turned into a dead land of disused railway viaducts, rotting canals and derelict sites. Revival in the 1980s came courtesy of entrepreneurs such as the bookmaker Jim Ramsbottom, who spotted the potential at what he called "the wrong end of Deansgate".
There was also much input from Manchester city council and the now-defunct Greater Manchester council who developed one of the most successful urban regeneration schemes Britain has ever seen, reworking Castlefield as a centre of tourism and leisure. This in turn has seen modern service sector industries and media companies move into what remains one of the most fascinating areas in Manchester, the canals reopened, the rivers cleaned up, the old warehouses refurbished, the decaying buildings revamped as smart apartment blocks, the entire estate a living example of how to unite industrial archaeology with modern leisure and living.