December 2019 tour: Fri 6 December.
Meet: Emmeline Pankhurst Statue, St Peter's Square, 1.30pm.
Booking: Please press here to book with eventbrite.
***
Bring: Voting card marked: "Pankhurst X".
Visiting: The Pankhursts' shop, which still stands in the middle of town.
Make sure you come on this Pankhurst tour, the only one in Manchester which goes to the Pankhursts' shop (yes, I bet you didn't know they had a shop in Manchester city centre) and gives the accurate political background to the infamous Free Trade Hall rally in October 1905. We have made a forensic and in-depth study of this extraordinary story. Come with us to discover Manchester's cataclysmic connections…
***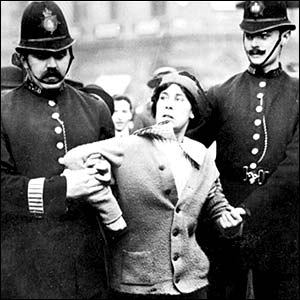 In August 1819 at least a dozen people were killed demonstrating for the right to vote at St Peter's Fields, Manchester. Nearly a hundred years later, in 1903, the Pankhurst family, disgusted with the Independent Labour Party's refusal to allow women to use the newly-opened Pankhurst Hall in north Manchester, founded the Women's Social and Political Union to step up the campaign for the right of women to have the vote in parliamentary elections.
What had been a sedate pressure group, willing to stay within the law to change the law, soon became militant. The women suffrage supporters ("suffragettes," the Daily Mail called them) disrupted a Liberal Party rally in the Free Trade Hall in 1905 and two of their leaders – Christabel Pankhurst and Annie Kenney – were jailed. Manchester had become Suffragette City, but it took a generation and many thousands of broken windows for women to secure the vote.
This is a walk in memory of the Pankhursts – Emmeline, Christabel and Sylvia – fierce campaigners, resolute radicals. We visit their haunts, outline their struggle and follow in their footsteps.
An excerpt from the walk
When Christabel Pankhurst and Annie Kenney were arrested for disrupting the Liberal Party's political rally at the Free Trade Hall in October 1905 they were taken first to a cell in Manchester Town Hall and then to Strangeways Prison.
Soon one of the leading Liberal politicians of the day turned up at the prison offering to pay the women's fines so that they could be quickly released. The philanthropic politician was none other than Winston Churchill, MP for Oldham, who had recently crossed the floor from the Conservative benches. But was this really a welcome move or just a cynical one? Surely if the women agreed to his offer he could champion himself as being in control of them …