* The following article is now featured on the ILoveMcr website.
Why Manchester Central Library looks like the Pantheon – not just of Rome, but also of London.
You may have noticed that Manchester's Central Library resembles the Pantheon of Rome. It is so strikingly obvious. But it begs the question why? It's a wonderful story, linking Manchester with London's Pantheon, Rome's Pantheon and Rome's St Peter's Basilica.
Manchester Central library was designed by Emmanuel Vincent Harris and opened in 1934. Harris was also responsible for the adjacent Town Hall Extension which opened four years later. Inside the Library, the first floor reading room is graced by a gorgeous altar-like structure framed by four turquoise Tuscan columns topped by filigree iron work bearing a clock. It's a baldacchino, based on the epic baldacchino inside St Peter's Basilica, Rome. After all the Manchester library stands on St Peter's Square.
Just as the baldacchino inside St Peter's Basilica, Rome, stands above the tomb of St Peter, so Manchester Central Library was built above a graveyard, that of St Peter's Church which stood from 1788 to 1907 in what is now St Peter's Square. The baldacchino inside Rome's St Peter's Basilica was created out of bronze work removed by Pope Urban VIII from the Pantheon, a mile away, in 1634, exactly three hundred years before this library opened. Pope Urban VIII was Maffeo Barberini, which led to the quip: "Quod non fecerunt barbari, fecerunt Barberini: "What the barbarians did not do, the Barberini did".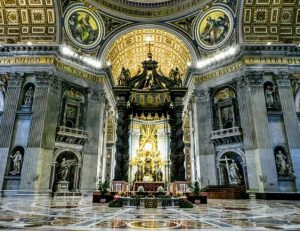 There are other remarkable links. St Peter's Church, Manchester, was designed by the architect James Wyatt after he had journeyed to Rome to study St Peter's Basilica. As his associate Richard Bagot later explained: "Being under the necessity of lying on his back on a ladder slung horizontally, without cradle or side-rail, over a frightful void of 300 feet." But Wyatt's greatest architectural achievement was the Pantheon in London. This was a grand entertainments centre which opened in 1772 and stood on Oxford Street. It was one of the wonders of the age, its rotunda based on that of St Sophia in Istanbul. It was "the most beautiful edifice in England", according to Robert Adam. Sadly London's Pantheon burned down in 1792. It was replaced by another building that became a bazaar, also called the Pantheon, but not quite so grand, which opened – and here's another anniversary – in 1834, exactly a hundred years before Manchester Central Library.
In the early 1930s plans were announced, with much opposition, to demolish London's Pantheon. So in Manchester Harris decided to pay tribute to the late Pantheon and James Wyatt's architecture with his own Pantheon. What an excellent tribute!
• Incidentally, next to London Oxford Street's Pantheon stood a chemist where the self–proclaimed "opium eater", Thomas de Quincey, one of the greatest Manchester-born writers, born only a few hundred yards away from where Central Library now stands, bought his first opium early in the 19th century.