Next tours:
• On the Waterfront, Tuesday 12 March 2019, 12 noon, from the Town Hall front entrance.
• The Hidden Gems of Liverpool, Wednesday 24 April 2019, 11.30am, from the Ken Dodd statue, Lime Street station.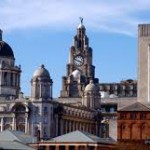 John, Paul, George, Ringo & Pete Best; Bessy, Degsy & Arthur Askey; Bazza & Shanks; Ken Dodd's Dad's Dog; that there Titanic, Cracker, Macca and the Wacker Quacker.
Yes, Liverpool draws millions of tourists and visitors each year for two main reasons: the Beatles and its breathtaking waterfront architecture. Plus there are a couple of famous football clubs whose history is laden with trophies, two cathedrals, several stately homes nearby, glorious parks and one of the most dramatic and unusual histories in Britain. Strewth!
On our Discover Liverpool tour we wind our way through the city centre, unravelling the mesmerising history of this great city, honouring the infamous local names (Ken Dodd, Bessie Braddock, Cilla Black, John Lennon, Raffa the Gaffer), heading to the waterfront for some of the most breathtaking imperial architecture in the country and eventually winding up in one of the Beatles' old pubs.
New Liverpool Walks…you'll never walk alone!