Every year we remember the bomb that destroyed a huge part of central Manchester on the 15th of June 1996.
The tour goes through the entire story, right up to posing a number of possible reason for why it happened.
Ed Glinert, alone amongst the Manchester guides, asks the difficult questions that others ignore:
Was it really the IRA?
If so, why.
And no, it's not the same pillar box.
Details below.
***
This tour: Thursday 15 June 2023, 11.15am.
Meet: Outside Selfridge's, Exchange Square
Booking: Please press here to book with Eventbrite.
One myth we will shatter is that the pillar box that stands on the site now is the same pillar box!
The morning of Saturday the 15th of June 1996. A man with an Irish accent phones the Manchester media to say that a bomb is set to go off in the city centre. Because he gives the correct code word, the authorities realise this is serious. The bomb is in a van on Corporation Street by a pillar box outside Marks & Spencer.
The police begin the onerous task of clearing thousands of people from the area. The bomb disposable unit arrives and sets up base on Back Pool Fold, off Cross Street, a hundred yards away. Will they be able to defuse the device in time?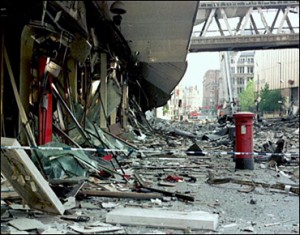 At nearly a quarter past eleven the army people send their remotely-controlled robotic device – the pigstick disrupter – along Cross Street and Corporation Street to defuse the bomb. It arrives at 11.17am, one second too late.
***
The bomb exploded, sending 3,300 pounds of Semtex and ammonium nitrate fertiliser into the sky. It was the biggest ever bomb detonated on the British mainland in "peacetime" and destroyed much of the city centre.
But why Manchester? Join us on a tour tainted with trauma and tension, which reaches into the very depths of the city's rarely told history.