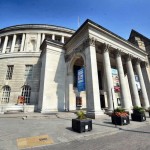 We have now run an in-depth, public tour of Central Library, having been inundated with requests to take groups and societies around the newly-refurbished gem.
Ed Glinert and the New Manchester Walks team have devised a wonderful tour, rich in history, architecture, design and drama. We will explain how the building works, reveal the thoughts of Manchester greats (Howard Jacobson, Anthony Burgess, Howard Spring) who have used the service, look at the well-attended 1934 opening with George V, explain the fascinating symbolism inside, touch on the library's previous homes (Charles Dickens opened the first such building in 1852), view the exquisite reading room and open up areas you might not find yourself.
It's not just a library; it's a gallery of Manchester history. Here's the chance to saturate yourself in the thinking and philosophy behind one of the city's most learned buildings. 
***
Also…we have been given the chance of hosting monthly talks within on a huge range of historical topics.
Ed Glinert hosts these once a month (not September) on a Monday at 1pm in the new lecture area on the ground floor, a superb speaking space that's just one of so many features of the exciting £48m redevelopment of the building.
The next talk takes place on Monday 10 October when Ed Glinert will be talking about the "10 Manchester Inventions That Shook the World" to usher in the forthcoming Science Festival. Glinert is in great demand as a humorous and knowledgeable public speaker on Manchester history and has over the last few years has spoken at the Cross Street Chapel, the Portico Library, Whitefield Synagogue and Gorton Monastery on topics as diverse as Marx & Engels, the Pankhursts, Manchester At War, Manchester architecture and the Town Hall Murals.
Next 2015 talks in Central Library (usually the ground floor lecture area) at 1pm.
• Mon 12 October – Ten Manchester Inventions That Shook the World.
• Mon 9 November – Elizabeth Gaskell & Manchester (150 years since her death).
• Mon 14 December – The Pre-Raphaelites & the Manchester Town Hall Murals.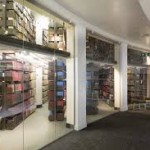 * No such thing as a free lunch? Well, these talks are free, and we hope you will enjoy them so much you will come along on plenty of our walks and tours subsequently.