It's Manchester's best-known 5-star hotel, built out of the city's most important building – the Free Trade Hall, where Dickens discoursed, the Halle Orchestra stirred the soul and Dylan was booed. It's a tour packed with the most mouth-watering history, followed by (optional) scrumptious tea with the most mouth-watering cakes. Churchill and cheesecake; Barbirolli and Battenburg; Disraeli and death-by-chocolate-cake. What more could you ask for?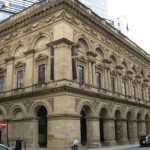 This is the classiest tour in Manchester, for not only is it rich with the most moving local history, retold scintillatingly and sensationally by the best guides, but it is rich with calorieficacious confectation.
To book a private tour for groups of about 20, loosen your belt and contact New Manchester Walks.