Next tour: No dates yet.
Meet: Malmaison, No. 3 Piccadilly, time tbc.
The '60s were invented in Manchester when George Best arrived at Exchange Station as a raw 15-year-old in July 1961, never having left Northern Ireland before. He requested the taxi driver outside the station to take him to Old Trafford but he was taken to the wrong one: Lancashire cricket club's stadium.
After sorting out the problem he turned up at the football ground and was then put into digs in Chorlton. The landlady was a Mary Fullaway, and her first sight of the footballer who would become Britain's greatest player led her to later claim he looked "more like a jockey than a footballer", for Best was then only 5 foot tall and weighed just 8 stone.
A year later the Beatles came for an audition at the old Broadcasting House on Piccadilly in 1962, only for Paul to fail. A year later Julie Christie could be seen carousing down Oldham Street in one of the most swinging of all Sixties' film scenes – from Billy Liar.
In 1966 Bob Dylan was booed at the Free Trade Hall, supposedly for betraying the purity of the folk idiom or maybe because the sound quality was so poor.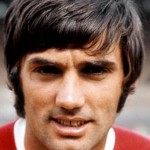 There were plenty more fantabulously flamboyant figures: Albert Finney, Dougie Flood, Mike Summerbee – not to mention the guys who cut their hair. But we don't just recall the clubs, clubbers and football clubs.
We also pay homage to a golden period in English architecture that gave us such magnificent houses: Bernard House (gone, alas), Manchester House (ruined, alas) and Quay House (also gone, alas).
If you remember the 60s, they say, then you probably weren't there or weren't where it was at, in which case we'll help you bring it all back home.