Next Walking tour: NO DATES YET
Meet: Queen Victoria Statue, Piccadilly Gardens.
Booking:  
Spurned, snubbed and sniggered at, Laurence Stephen Lowry became Britain's best-loved 20th century painter.
He called himself a "simple man", but he was the strangest of fellows. He never left the British Isles, enjoyed no sexual relations, and made his will over to a much younger woman, whom he befriended simply because she shared his surname.
Lowry's day job was not as an artist. He was a rent collector in the slum areas of the city. We explore the man behind the paintings, and take you through the haunts he visited and depicted.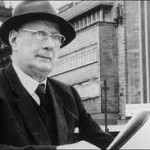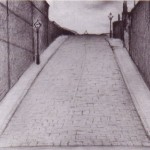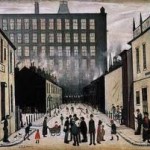 In 1930 the curator of Manchester Art Gallery asked Lowry to produce some paintings of Piccadilly.
"I wonder if you will consider my suggestion that you should at your leisure make one or two studies of Piccadilly as it is today with the sunken garden, the loafers, the ruins [infirmary] and all the rest of the mess and muddle."
Yet his work was rejected and he was told to try again, which he refused to do.
Ironically the City now owns a later, locally-set Lowry painting, Piccadilly Gardens (1954), below.