This tour: Sunday 25 April 2021, 2pm.
Meet: on your computer.
Booking: Please press here to book with eventbrite.
• Ford Madox Brown's Town Hall Murals, explained in full – every last brush stroke, every story, every character, every important detail – by Ed Glinert.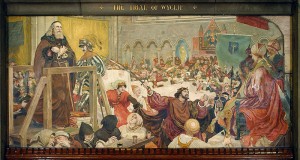 Ed Glinert, unveils his research into Ford Madox Brown's Town Hall murals on Zoom; perfect given that the Town Hall is closed till 2024.
The curious viewer who enters the Great Hall looks at the Murals and asks: why these scenes, why this version of history? The 12 panels contain a palette full of stories but also a catalogue of twists.
It seems perverse to find a panel illustrating the baptism of a king that never came to Manchester but not of the Peterloo Massacre. It seems strange to find a mural of an Oxford cleric tried for heresy at London's St Paul's but nothing about the opening of the world's first railway station in Manchester.
And here's another odd thing; a series of paintings decorating a room that ranks as the crowning creation of Victorian Gothic revival architecture and design contains no Victorian stories among them. How odd, how ironic, how Pre-Raphaelite.