Next dates at 11.30am and £15:
Sat 10 May, Mon 26 May, Sat 14 June (Steve Bourne), Sat 28 June, Wed 16 July, Sat 26 July.
* Dates in August and onwards can't be planned until the football fixtures are out in June.
Cost: £15. Bookable only through Quaytickets.
Meet: By the water outside the Castlefield Hotel, Liverpool Road.
Just to say: The cruise is unsuitable for children. Tea, coffee and alcoholic drinks are available.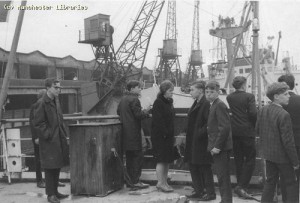 Those with the required sea legs should read on: New Manchester Walks on water during this 3-hour canal trip (with historic commentary) on the L. S. Lowry or Emmeline Pankhurst boat.
We cruise along the Bridgewater Canal, Manchester Ship Canal and River Irwell, waterways filled with a thousand stories of lockside lore – of deep docks that could hold a dozen ships, of Pomona Pleasure Gardens, of boats laden with Guinness, fish and Scandinavian timber.
From Castlefield, birthplace of Roman Manchester, industrial Manchester, and setting for Britain's first canal and first railway station, we venture up the Bridgewater Canal, past grand old mills and funky new waterside apartments until we get to Pomona. Here we go through the lock, transferring to the Manchester Ship Canal, the great waterway, as wide as Panama as deep as Suez. Once it was thronged with the world's ocean-going liners. Now it is the gateway to Salford Quays, the new city on the old canal.
At the Quays we explore the old docks, no longer lined with warehouses filled with cotton but dotted with glass-and-granite skyscrapers, epic museums such as the Lowry Centre and Imperial War Museum North, and the gleaming towers of Media City, the most exciting new building project north of the Olympic stadium.
We then venture back – by water – replete with seafaring Salfordian satisfaction.
(Pre-booking essential with www.quaytickets.com)