Regular cruises: 2015 dates. Sat 21 Feb, Sun 22 Mar, Sat 18 Apr, 11am. £18.
Next 2014 dates. Festive cruise with mulled wine and mince pie:
Sun 30 Nov, Sun 21 Dec, Fri 2 Jan, 11am. £23.
Booking:
Please book through  www.quaytickets.com, 0843 208 0500.
Meet:
At the water's edge outside the Castlefield Hotel, Liverpool Road.
See Manchester and Salford from the comfort of the L S Lowry or Emmeline Pankhurst boat as she makes her way along the Manchester Ship Canal, Bridgewater Canal and River Irwell, and we glide past the following sights:
On the water's edge, seen on the cruise and as pictured above, are:
* The new Coronation Street studios.
* Media City.
* Manchester United.
* The Imperial War Museum North.
* The Lowry Centre.
* The old docks of what was Britain's 4th biggest port.
* Mode Wheel Locks.
* Castlefield.
* Spinningfields.
And these are just some of the sights you will see in a way you've never seen before. We also go through the only Manchester lock – at Pomona – an unusual and exhilarating experience as the boat rises or falls to meet the level of the other waterway and the fortress-like walls of the lock disappear from view.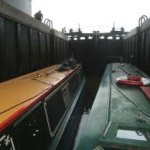 Expert commentary provided by the queen of canal tour guides, Salford-born Sue Grimditch.