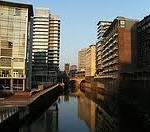 It's the river that divides Manchester from Salford, snaking its way through the centre of the metropolis and almost meeting itself near Salford Crescent. Never a picturesque centrepiece like the Thames or Seine, it was a conduit for goods and products, an outlet for industry, a black, inky artery between factories and mills.
But that was long ago. The Irwell has been cleared up and is now being opened up as Manchester and Salford's social highway conveying strollers, walkers and flaneurs looking to escape the rush of city life alongside the area's most ancient route.
We explore the banks and drop into and out of time-honoured tales of what went on by and in the river, unveiling a sea of stories: the sinking of the boat the Emma; the tunnel below the banks from the Cathedral to Ordsall Hall; the flood of 1616 (see below); the transportation of convicts to Australia; and how the river was magnificently upgraded into the Manchester Ship Canal (at which point we end our sojourn).
From Hollinworth's Mancuniensis:
"An extraordinary flood, called from the day Lambard' s Flood, in which the water suddenly rose many yards plumme above the ordinary course, that men stood upon Salford Bridge, and laded up water with a little piggin. It is a easy matter with God to drowne a towne ; yea, a world."