Next tour: Sunday 12 March.
Meet: Knutsford Station, 12.15pm.
Historical Ramble: This will be a long one. Streets, buildings, history and a good bit of parkland, ending in a fine ale house.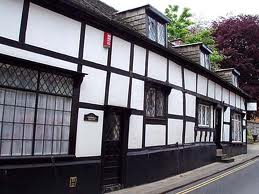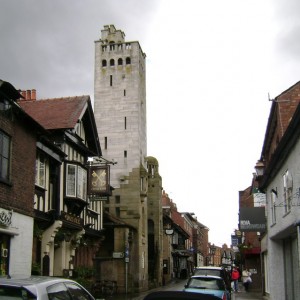 Knutsford is one of the most picturesque villages in England.
Classy Cranford in chi-chi Cheshire is an apt description.
Quaint cafes, romantic churchyards, handsome pubs, dinky shops, groves and Gothic gables, nooks and niches, crevices and crannies line this wonderful small town that lies on the Cheshire plain alongside the swooping Tatton Park. Knutsford is charmed with history and a niche in 19th century literature thanks to the Cranford tales of Mrs Gaskell, raised alongside the heath.
The locale was fortunate enough to attract the attentions of wealthy local glove merchant, Richard Harding Watt, at the beginning of the 20th century. He hired the finest local architects – Walter Aston, Harry Fairhurst – to realise his mad vision of Hacienda-styled Moorish mansions and torerean towers in this temperate topography.
On King Street stands the Gaskell Memorial Tower, one of the world's greatest follies. It looks like a refugee from a spaghetti western, but it is a recherche sight full of romance, its walls etched with the names of the kings and queens of Britain – of Ethelbert and Aethelred – quotes from Milton, the titles of Mrs Gaskell's books and classical columns transferred from the demolished infirmary in Manchester's Piccadilly Gardens and from St Peter's Church at the other side of the city centre.
Watt's Ruskin Rooms near Tatton Park are as inspired but not as manic. Here the Arts & Crafts language of Mackmurdo and Norman Shaw meets the Italiante irrationality of Portmeirion. Then there are Watt's mansions on Legh Road which defy belief.
This is an extraordinary village, almost unmatchable in this country. No wonder it has attracted as residents the creme de la creme of local society: Henry Royce, Bobby Charlton, Graeme Souness and, er, George Osborne.
***
"The lunch–a hot savoury mutton-chop, and a little of the cold loin sliced and fried–was now brought in. Every morsel of this last dish was finished, to Martha's great gratification." Elizabeth Gaskell, Cranford, 1851.