Next tour: When we've fixed that hole we'll announce some new slots. But you can always book us for a private tour.
Tour guide: The man who nobody calls the 5th Beatle: Ed Glinert, former Mojo Production editor and author of Fodor's Rock 'n' Roll Traveler books.
Meet: Adelphi Hotel, Ranelagh Place.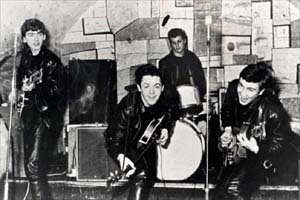 We don't just take people around Ian Curtis's Manchester and Tony Wilson's haunts, we nip over to Liverpool because the Beatles were fab, gear…almost as good as the Smiths.
For years ours was the only public walking tour around the Beatles' Liverpool city centre locations where you could just turn up – no need to book – and be taken around Beatle-land: Mathew Street and the Cavern, the Ropewalks area, Whitechapel and the Georgian enclave where Brian Epstein lived, the Beatles went to school and the pubs where they drank.
The End? The wonderful Cracke pub where, who knows?, they might serve you a "Cream tangerine and Montelimar" or even a "ginger sling with a pineapple heart".
• We can also do this tour by coach, going further afield to Penny Lane, Strawberry Field(s), Eleanor Rigby's grave and other places they'll remember. Groups should contact New Manchester Walks for more information.
Meanwhile, if there's anything that you want or anything that you need…