Next tour: No more public dates yet. To book privately, please contact New Manchester Walks.
On 1 June 2017 we fixed that hole to honour the 50th anniversary of the release of Sergeant Pepper's Lonely Hears Club Band with a celebratory walk.
In the years that have elapsed the album has attained monumental status as the most lauded LP in music history. Songs such as "A Day In The Life", "When I'm Sixty Four" and "With A Little Help From My Friends" have become standards. Less mentioned but no less magnificent are masterpieces like "Getting Better" and "Within You, Without You".
Pepper is in many respects the album of the rock era, lauded by Rolling Stone, Mojo, the NME and every major critic.
We mark the 50th anniversary of its release with a guided tour (with appropriate music accompaniment) around the Beatles' Liverpool haunts:
* The Cavern.
* St George's Hall.
* The Eleanor Rigby statue.
* The shabby flat where John Lennon dossed.
* Brian Epstein's rather more comfortable apartment.
* The Inny where George and Paul went to school.
* The End? Ye Cracke pub where we hope to order a "Creme tangerine and montelimar/A ginger sling with a pineapple heart" for our "coffee desert".
PS. Today's guide, Ed Glinert, prefers "Beggars Banquet" and "Music In A Doll's House" but don't tell anyone.
Tour guide: The man who nobody calls the 5th Beatle: Ed Glinert, former Mojo Production editor and author of Fodor's Rock 'n' Roll Traveler books.
Meet: Adelphi Hotel, Ranelagh Place.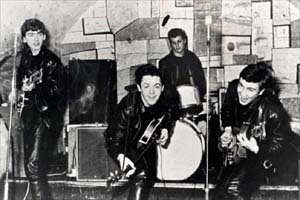 • We can also do this tour by coach, going further afield to Penny Lane, Strawberry Field(s), Eleanor Rigby's grave and other places they'll remember. Groups should contact New Manchester Walks for more information.
Meanwhile, if there's anything that you want or anything that you need…