Next tour is on Zoom: Sunday 21 March 2021.
This is a Classic Corrie Zoom coach tour to mark 60 years of Coronation Street.
Meet: On your computer!
Booking: Please press here to book with eventbrite.

***
Coronation Street is now 60 glorious years old and we are marking the occasion with a remarkable new tour: "Classic Corrie Coach Tour on Zoom"!
So whether you live in Windsor, Winnipeg, Wooka Wooka or Weatherfield you can join legendary tour guide Ed Glinert, one of the very few official Manchester tour guides who has taken groups down the cobbles, on a rip-roaring, mind-blowing, eye-opening trail through the great stories from Coronation Street's golden days at the places where they were filmed:
Richard Hillman driving the Platt family into the drink.
Alan Bradley run over by a Blackpool tram.
The original prototype for Coronation Street – Ordsall's Archie Street.
St Christopher's, Weatherfield, where so many happy marriages began.
Weatherfield Register office, where so many happy marriages began…you get the drift.
Weathefield Quays where Don Brennan in his taxi drove him and Alma into the watery depths.
The now-demolished studios in Granadaland.
The Manchester pub where the name "Coronation Street" was devised.
and more…until Jack and Vera call "last orders"
The anniversary
On Wednesday the 9th of December 2020 it will be exactly 60 years since Elsie Lappin (no, not Elsie Tanner) told Florrie Lindley "Now the next thing you want to do is get in a signwriter in. That sign above the door will have to be changed."
The format
You, the Corrie lover, pays official Manchester tour guide Ed Glinert the grand sum of £11 English pounds.
Before the tour you receive your Zoom, invite.
Just before 4pm on Wednesday the 9th of December 2020 you log in and then for the next hour-plus you are transported to the streets of Weatherfield disguised as Manchester and Salford as if you were on a coach.
The good news is, you don't have to leave your house to get a plane to Manchester Airport or a tram (that might crash into the Bistro) to Weatherfield North to come on the tour.
It's less than half the price and twice as much fun.
We'll have two breaks en route so that you can go to the fridge and open a can of Newton & Ridley's finest.
Stop there, folks! The following is for non-Covid times. Doesn't apply for December 2020
We have devised a brand new Coronation Street locations tour for 2018 onwards now that the old Granada set is being demolished.
What you need to know
* You must buy an all-day tram and bus ticket before the tour, available from all stops. Of course some customers will be local and have a pass. Others please be prepared!
* We won't finish back in Ashton – too far. We will finish in the city centre.
* We can't guarantee you will bump into any Corrie stars just walking along the street but it does happen!

Guide: Ed Glinert, one of the only Manchester tour guides to have recently guided on the live set.
City centre locations
* The pub where the name "Coronation Street" was devised.
* The bar where David … uh, oh, that hasn't happened live yet!
* Whatever remains of Granadaland, lovingly honoured before it goes.
* The block where that lowlife, John Stape, tried to commit suicide.
* The ornate location where Alf wed Audrey.
* The church where Betty's funeral service was held.
* The apartment where John Savident (Fred Elliot) met his nemesis.
* Fiz's Restaurant.
Suburban locations
* Portland Basin in Ashton-under-Lyne, where Richard Hillman drove the Platts into the depths.
* Weatherfield Registry Office, setting for so many doomed marriages.
* St Christopher's Weatherfield, setting for so many doomed marriages. There's a theme developing here…
How it all began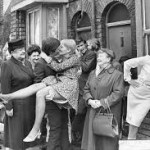 "Now the next thing you want to do is get a signwriter in. That sign above the door will have to be changed."
Those were the opening lines of the world's most famous television programme, spoken by Elsie Lappin to Florrie Lindley on 9 Dec 1960. Florrie replied: "It'll seem funny 'avin me name outside me own shop."
What about that? Not even Ken Barlow to Ena Sharples. But those lines ushered in a phenomenon, an institution, that is now 53 years old.
Coronation Street was not an instant success. Granada only commissioned 13 episodes. Few within the company thought it would last its run. However something caught the viewers' imagination. Perhaps it was the liberal use of Northern phrases like "eh", "chuck", "nowt". Perhaps it was the Dickensian gravitas of the cast's names (purloined from Pendlebury Church graveyard). Perhaps it was the setting: Archie Street, Ordsall, with its compact terraced houses, backyards, corner shop, pub and church, less than a mile from Grandaland.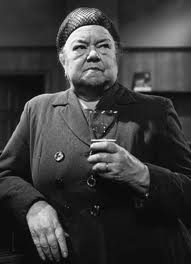 Fifty years of drama and farce, life, loves and laughs have followed on Britain's most famous TV street, land of cobbles, factories, terraced houses, Kabin and Rovers Return.
Its success has been buoyed by the wonderfully drawn cast of characters past and present – Vera & Jack, Hilda & Stan, Elsie, Ena, Ken and Len; Bet and Betty; Liz and Lloyd; Steve and Norris; Stape and Fiz; Sonny Jim and Schmeichel (R.I.P. big fella).
Here's a great story
When Julie Goodyear first turned up at Granada to play Bet Lynch in 1966, a friend gave her a lift into Manchester in his van. In the back was a cement mixer. Julie expected the pal to drop her on the main road, but as it was raining he insisted in pulling up outside the TV company's front entrance on Atherton Street. By an amazing coincidence Pat Phoenix was just getting out of her Rolls Royce at the same time. Pat looked Julie up and down "as if I were a piece of dog dirt on her shoe," as Julie recalled, and said, "'Don't you ever, ever dare to upstage me again, young lady.'"
* The tour is hosted by Ed Glinert who led the campaign to get the old Granada set re-opened, who has guided on the new set in Trafford Park (but not on this occasion) and who hosts events with the stars (with Kemptville Travel).
* Of course we can't guarantee that you'll bump into one of the stars as we stroll round, but once on a tour we did amble past Bruno Langley (at which point one lady shouted out: "Oi, Todd!", and he waved). So there.