Please book through Quay Tickets.
New Manchester Walks on water during this canal trip (with commentary) as we cruise along the Bridgewater Canal, Manchester Ship Canal and River Irwell.
On the water's edge, we also see:
* The new Coronation Street studios.
* Media City.
* Manchester United.
* The Imperial War Museum North.
* The Lowry Centre.
* The old docks of what was Britain's 4th biggest port.
* Mode Wheel Locks.
* Castlefield.
* Spinningfields.
Those are just some of the sights you will see in a way you've never seen them before. We also go through the only Manchester lock – at Pomona – an unusual and exhilarating experience as the boat rises or falls to meet the level of the other waterway and the fortress-like walls of the lock disappear from view.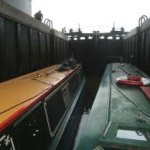 Expert commentary provided by the queen of canal tour guides, Salford-born Sue Grimditch.