Marx & Engels in Manchester.
Next tour: Marx & Engels May Day pub walk: Fri 1 May 2020.
Meet: St Ann's Church, 6pm.
Booking: Please press here to book with eventbrite.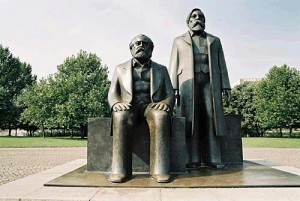 Whatever happened to Leon Trotsky, as the old song asked? Well, he never came to Manchester, but Marx and Engels were here and did they like a drop! After all it was thirsty work for Engels, a successful cotton merchant by day and a fiery, rabid revolutionary at night, traipsing the slum areas of Manchester gathering ideas for how to change the world.
When Marx came up to Manchester, fresh from the drinking holes of London's Tottenham Court Road, these two frock-coated communists would head off for a pint of red roasted ale in the back streets of Manchester. We will do the same and raise a glass in their honour.