Next tour: Sunday 31 July 2022.
Meet: Victoria Station wallmap, 2pm.
Booking: Please press here to book with Eventbrite.
Can we get round all the wondrous places the left bank city has to offer?
• There's the Real Tennis court, one of few in the country, its walls decorated with antlers' heads, which feels like it's been transported from deepest Barsetshire.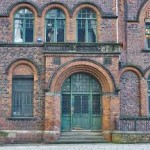 • Sacred Trinity on Chapel Street is one of the oldest places of worship in the area and was nearly bulldozed when Exchange Station was built in the 1880s.
• Bexley Square Magistrates' Court was the Town Hall and more recently featured in Coronation Street as the location of Tyrone's trial.
• Salford has a Catholic cathedral, St John the Evangelist, the first cruciform church to be built since the Reformation of the 1530s when it went up in the 1840s.
Just a few examples of the unusual fayre on offer.