16 August 1819: troops charged 60,000 Mancunians on a public holiday at a rally called to lower the price of bread and demand the vote. More than a dozen people were killed and hundreds injured.
We don't just remember Peterloo in summer. On 18 April 2015 Ed Glinert will lead a walk from the site of the infamous massacre to the location of the long-vanished Henry Hunt obelisk (pictured below), what was the city's only visible Peterloo memorial, recounting the key stories en route.
* The walk is being held in support of the campaign to erect a permanent and appropriate memorial in Manchester.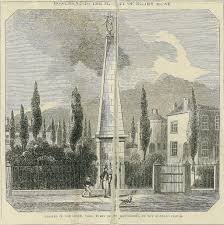 For more details of the dreadful day of Peterloo, see elsewhere on this website: http://www.newmanchesterwalks.com/walks-tours/peterloo-massacre-on-the-streets-of-manchester/