Next tour: Tuesday 9 May 2017.
Meet: Outside the Whitworth Art Gallery, Oxford Road, 1.30pm.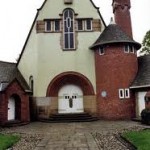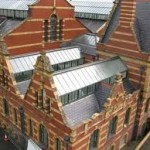 Behind the chaotic, cardamom-coated world of the Curry Mile lie the remains of a luxurious, tree-lined estate of Gothic villas created in the 1830s for Manchester's burgeoning middle class away from noise and smell of factories.
Victoria Park is still the most fascinating suburb in south Manchester, its shabbiness and faded glamour only adding to the mystique. It is also the location of the city's most remarkable looking building, Edgar Wood's expressionist 1st Church of Christ Scientist on Daisy Bank Road (top left).
The gated estate Victoria Park was created by Richard Lane, a fundamentalist Classical architect who surpassed himself in helping fill this prototype garden village with spacious properties brimming with character and charm. The houses have Classical or Gothic effects, are topped with lofty chimneys, set on wide, gently curving tree-lined roads and back onto rambling gardens. Originally, there were toll gates at the borders to thwart undesirables, no pubs were allowed and police only had limited powers of arrest within.
By the late 19th century Victoria Park had become what the great Manchester Guardian journalist Neville Cardus memorably described as a "sequestered purlieu". A number of the wealthy residents were German-Jewish merchants who owned businesses in town, men like Maurice Spiegelberg and Schill Seebohm but there was also a smattering of prestigious figures from the arts and politics: Charles Halle, founder of the Halle Orchestra (on Daisy Bank Road's Addison Terrace), the "Manchester School" political leader Richard Cobden (Crescent Gate), and the Pankhurst family (Buckingham Crescent).
In the 1880s Manchester University began buying up some of the larger houses for halls of residence, a move that characterised the future direction of the estate. After the Great War it became clear that successful Mancunians, the kind who once vied for the best houses, were now preferring Bowdon or Didsbury. Properties were left empty or turned into flats, and more and more buildings were taken over by academia. A main road (Anson road) was cut through the area and in 1938 the toll gates were removed, resulting in a Victoria Park with little permanent community and few willing to care for it.
Surprisingly decline and demolition have not been as rampant here as in other parts of Manchester, despite the departure of its once affluent population. Many of the most imposing properties still stand and the 19th century street pattern remains, leaving Victoria Park as one of the least Manchester-like areas of the city.
Some of our Victoria Park walks finish at Victoria Baths (picture above), an Edwardian water palace, lovingly restored in recent years, for the open day (but please check it's open on the day of our walk. It tends to be shut in winter).