May tour: Wed 15 May 2019, 2.30pm.
Meet: Shudehill Metrolink stop.
Booking: Hear ye, hear ye, PLEASE BOOK HERE WITH YE EVENTBRITE.
* Chetham's: Europe's oldest library.
* Manchester Cathedral: an ancient place of worship with a history to match.
And all around the site of the "Old Town" where Manchester grew by the rivers Irk and Irwell, and the Hanging Ditch.
This is a tour into the heart of mediaeval Manchester, replete with extraordinary stories, such as that of the Catholic priest dragged by heels from the prison to what is now the Cathedral, and close-up views of Tudor stones and holy relics.
Here is a potted biography of Humphrey Chetham, adapted from the forthcoming Encyclopaedia of Manchester by Ed Glinert.
***
Humphrey Chetham (never Sir Humphrey Chetham, despite the long-gone pub in Clayton, the Wikipedia website and pages published by the BBC, who should know better) gave his name to Chetham's School and Chetham's Library, the latter the oldest library in continuous use in the English-speaking world.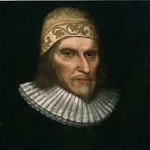 Chetham's name is pronounced with the long, double "ee", despite the spelling. He was born in Crumpsall in 1580, baptised at the Collegiate Church (now Manchester Cathedral) on 10 July that year, educated at Manchester Grammar School, which then stood on an adjacent site, and was apprenticed in 1597 to Samuel Tipping, a Manchester linen draper. Chetham made his money from cloth and became the richest man in Manchester in the early 17th century.
Initially he invested in property (Clayton Hall, which survives, for instance) and later by supporting poor boys through schooling. In 1631 Charles I bestowed a knighthood on Chetham but he turned it down, and consequently never became Sir Humphrey Chetham. In some ways this was a wise move, as support from such a King would not have impressed many a decade later in Parliamentarian Manchester. But in the short term it meant that Chetham had to pay a hefty fine. Charles I later punished Chetham further by putting him in charge of collecting the local Ship Money, a tax levied on all households to protect communities from invasion by men in ships, a predictably unpopular tax in inland Manchester.
Wanting to establish a permanent school, Humphrey Chetham approached the parliamentary sequestrators in 1648 to buy the College of Manchester, built from 1421 as a college of priests and now one of the oldest buildings in Manchester. By then the old college was in ruins, with swine roaming freely. Chetham's death died at Clayton Hall on 20 September 1653 (he was buried at midnight in what is now the Cathedral) didn't prevent the project going ahead. His executors carried out his intentions from the £7,000 he left. Chetham's Hospital, a school for the "maintenance and education" of 44 poor boys, a place where one received hospitality, never a medical institution, despite the philanthropic name, opened in 1653. It is now a music school. The library was established in the same year.
There has been considerable renovation and rebuilding on the site over the centuries but many 15th century features remain. These include the Library, Baronial Hall, the cloisters, the fellows' dormitories, the Fox Court, and the Audit Room, where the feoffes who run Chetham's meet, with its original moulded beams and bosses.