The Line-Ups: Best, Busby, Bobby, Buzzer, Bell, Bert, Balotelli, Bungs, Booze, Babes…from Salford Van Hire to Robin Van Persie, Louis Van Gaal and beyond.
Running Commentary: Given that Manchester is the world's leading football city (it is, after all, home to both the most famous club in the world and the richest club in the world…we'll leave you to work out which is which…even if Milan have two past European Cup winners and Madrid recently got both their teams in the European Cup Final and, er,…) it should have the world's best football history.
It has. The city's streets are awash with fantastic stories of footballing fate and fortune. Tales of Best, Law and Charlton. A history of awesome players and heroic struggles, but also one of off-the-park politics, of sadness and scandal, of temptation and tragedy.
Never mind the result. These are human stories of great fortunes won and nearly lost. In fact they go beyond the human. One of the best stories involves a dog: Major. Without Major where would Manchester United be now? In the doghouse for sure.
In 1901 Newton Heath Football Club had serious financial problems. To raise £1,000, the money that might prevent bankruptcy, the club put on a 4-day bazaar at St James Hall, Oxford Street (where the huge Beaux Arts St James's Buildings now stand).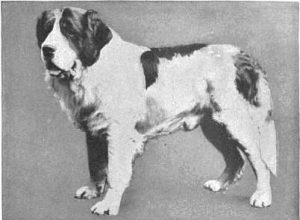 Manchester City even made a donation, but by the end of the third day, it seemed that the venture would prove unsuccessful. So Harry Stafford, the Newton Heath captain, brought in his St Bernard dog, Major (above), to raise money. Major wandered around the stalls with a collection box strapped to his back. Perhaps the sight of the happy hound would bring in donations.
Alas on the 4th day Major escaped. All was not lost, however, for a rich local brewer, John Henry Davies, found him. Davies traced the dog's owner and when he caught up with Stafford the Newton Heath captain told him about the precarious nature of the club's finances. Davies was impressed and decided to make a takeover bid for the club. He paid off the debts. From now on Newton Heath would play in red shirts and white shorts rather than in yellow and green. They would soon be known as Manchester United.
Enjoyed this tale? We have many to tell and will vary the stories each tour. We do various football-themed tours, such as "George Best's Manchester" and "Matt Busby's Manchester", and we are stepping up our game now that the National Football Museum has opened in Manchester. Play up! Play the game!