Industrial Gorton boasts one of the most beautiful (former) churches in the country; a world heritage site, no less – Gorton Monastery.
We meet in the Monastery's Friars' Pantry for a talk and tour of this breathtaking building, followed by a short step across the eerie streets outside, taking in stories of industrial imperialism and post-war dereliction, returning for a bite of soul food.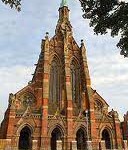 The tour is led by Ed Glinert, one of the monastery's official guides and joint founder of New Manchester Walks.
Please book with the Monastery, via events@themonastery.co.uk/0161 223 3211.