Please book with eventbrite here.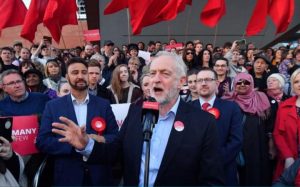 You might not have voted for him. You might think he's a danger to the country. You might think he's an insufferable pompous prig…but enough about Nick Clegg. This is the walk that St Jeremy Corbyn himself would take through the radical, revolutionary, red-tinged streets of Manchester in pursuit of inspiration and aspiration. A walk for the many, not the few!
This is our road to Damascus:
The City Arms hostelry, the nerve centre of the Labour-controlled city council.
• The Ramsay MacDonald plaque outside Central Library to reminisce about the betrayal of a former Labour leader.
• The site of the former Manchester office of the Daily Mail, the newspaper which promoted a fake news scare before the 1924 general election, resulting in Labour's defeat. Something unthinkable now.
• The exact spot outside the Royal Bank of Scotland where Ed Miliband made an ass of himself without a bacon sandwich before the 2015 general election.
• Manchester Town Hall, setting for a Labour coup in 1984.
• The Free Trade Hall, the political heart of Manchester.
• The Bank of England on King Street, its national equivalent central to the financial problems of the 1930s, just as it would be now according to the Daily Mail if a Corbynista government was elected.
• The exact spot outside Manchester Central where David Miliband quit front-line politics.
• Mosley Street to hear about Oswald Mosley, the"difficult" member of the 1920s whose defection led to riots on the streets.
• The tour ends at Thomas Paine's very desk – yer actual desk like of the greatest radical figure in British political history – in the People's History Museum on which he wrote The Rights of Man.