Wednesday 7 July 2021, 2pm.
Official Manchester International Festival tours
Meet: Midland Hotel, Peter Street.
Booking: Please press here to book with Evenbrite.
* One day we will be able to walk the streets of Manchester and examine its glorious architecture close up. Until then…
Oh, and by the way, let's not forget that Zoom allows us to cover so much more ground than we can do on a walking tour, given that we don't have to spend most of the time walking from A to B.
***
Merchants' palaces, Gothic towers, Baroque fantasies and Classical temples: Manchester city centre is lined with architectural splendour, from the soaring spires of Manchester Town Hall to the mathematical purity of the Friends' Meeting House; from the exquisite Renaissance effects of the Athenaeum to the Art Deco embellishments of Sunlight House.
No wonder the Builder magazine once described Manchester as "a more interesting city to walk over than London. One can scarcely walk about Manchester without coming across frequent examples of the grand in architecture. There is nothing to equal it since the building of Venice".
On our Manchester Architecture tours we take you through the city's streets looking at its most impressive buildings, era by era, style by style, architect by architect, showing off Manchester's first designer buildings from the early 19th century right through the ages to today's stunning skyscrapers.
Want to read more?
Here's the piece New Manchester Walks' Ed Glinert wrote for the Manchester International Festival 2011 brochure.
The best view of Manchester's architecture is from Salford. Stand on isolated, lonely Oldfield Road, off Salford Crescent, by the dried up route of the Manchester, Bolton and Bury Canal, and look west, and there it is: Manchester, caught in a perspective of triumphant towers and soaring skyscrapers. Marvel at the sticking-out "drawers" of the Civil Justice Centre aside its formidable aluminium composite bulk and suspended glass wall, the largest in Europe. Look in awe at the Art Deco fortress of Sunlight House, and take in an intoxicating vision of the Beetham, the subtlety of its shape now suitably sensed when removed by the long gap.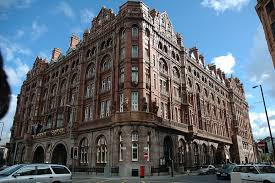 Walk from here into Manchester and the finer detailing of these facades becomes sharper. Central Manchester is dominated by 19th century architects' desperation to re-create the traditional styles of Europe – Greek, Gothic, Italianate, Baroque – on uncharted territory. Manchester has few original buildings, just brilliant copies. The Memorial Hall on the corner of Albert Square and Southmill Street by Thomas Worthington is pure 15thcentury Venice. What's left of the Free Trade Hall on nearby Peter Street is Edward Walters' take on the Gran Guardia Vecchia in Verona. You want more Italy on the streets of Manchester? Head for the Athenaeum on Princess Street, now part of the art gallery, and behold a Florentine Palace that's pure Palazzo Pandolfini by Raphael, while inside ironically is a large collection of Pre-Raphaelite paintings himself.
On the way, you might head past Friends Meeting House on Mount Street. It's Greek. Ancient Greek. The façade is based on the Temple on the Ilissus because Richard Lane, designing in the 1820s, believed that as Manchester had no cultural legacy the city should pay homage to the territory where modern ideas of aesthetics, art and architecture were shaped. Not that everybody was impressed with the slew of Classical revival buildings he created. The Builder magazine for instance derided his work (Chorlton-on-Medlock Town Hall, St Thomas's Pendleton) as looking like a factories with the front of temples stuck on.
At least in modern times Manchester has begun to originate. The Bruntwood-owned Bank Chambers/Bank House on Faulkner Street, between Piccadilly Gardens and Chinatown, is a magnificent segue of big tower and little tower on a concrete podium. It was designed by Fitzroy, Robinson in 1971 and appropriately is home to Fairhurst's, the most prolific architects in Manchester history. Pity it will need another hundred years before its brutalist beauty and granite-and-glass glamour are fully appreciated.