As Ian Curtis sang: "I've been waiting for a guide…"
This tour: Saturday 13 July 2019, 11am.
Booking: Please book here with eventbrite.
Forty years ago this day music was changed forever with the release of the haunting, mesmerising, disturbing Joy Division album "Unknown Pleasures". Clipped metallic rhythms, phased guitars, tortuous atmosphere. It was like nothing before or since.
Ed Glinert, Mojo launch production editor and co-author of Fodor's Rock 'n' Roll Traveler series, pays tribute on this tour of the city's music haunts, with the emphasis on Ian Curtis and Joy Division.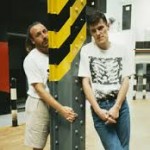 Read on…
Despite no tradition of making memorable music, Manchester became the most feted music city in the world towards the end of the 20th century, acclaimed for its role in nurturing groups such as The Smiths, Buzzcocks, the Fall, Joy Division, New Order and 808 State.
That Manchester would attain such elevated status looked unlikely in the 1960s when the city lived darkly in the long shadow cast 35 miles away in Liverpool by the Beatles, and it remained so in the 1970s with Manchester playing little part in prog or mainstream rock.
Those with local connections that were successful like 10cc and Roy Harper made music that had little to do with Manchester culturally.
The Manchester-based beat groups of the mid-60s were phenomenally successful in terms of sales. Herman's Hermits and Freddie & the Dreamers cleaned up in America. But this was not exactly cutting edge quality music to rank alongside the greats of that era, such as the Yardbirds, Animals and Who.
So how did Manchester music become so important?
Amazingly we can trace this back to two chaotic Sex Pistols gigs at the Lesser Free Trade Hall in the summer of 1976.
Present that night were many of those who went on to dominate Manchester music for the next few decades, including Barney Sumner (Joy Division, New Order), Mick Hucknall (Simply Red) and Morrissey. Some formed groups, while others set up from scratch a music industry infrastructure of promoters, songwriters, agents, designers, journalists and record label owners.
We go to some of their haunts and venues on the various music walks.
That scene played a huge role in the general renaissance of the city in terms of media, design, architecture and culture. We can trace a development from the summer of '76 to the opening of new venues such as HOME in 2015.
The music scene has attracted countless people to the city, some as students, some to work in attendant industries.
If you want to see how dull a similar city without a vibrant music scene is like, go to Leeds!