Forget nice Paul and homely Cilla, this is the interesting side of Liverpool's history: slavery, pirates, press gangers, the assassination of nasty John (Ron Nasty), how a bunch of rabid Trots seized the council and spectacularly failed to bring down the Labour Party, let alone the ghastly government (those terrible Tories), how an unsinkable ship registered in Liverpool er actually sank and how a Liverpool cult figure burned a million quid. Apart from that we should find some really bad stuff.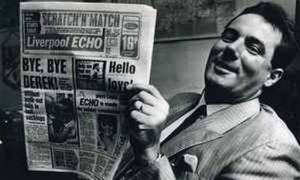 * There seems to be some confusion about this tour. It is not a dig at Liverpool. The guide, Ed Glinert, loves Liverpool dearly. This is a tour which explains how certain individuals and events have given the city a bad reputation.
Tours have to be interesting. A tour which was dominated by wonderful and uplifting events and people wouldn't be worth going on.