Next tour: Saturday 14 December 2019, 2.30pm.
Meet By the Deansgate entrance to the Beetham Hotel.
Forget lastminute.com, please press here to book with eventbrite.
End with cream tea at the Radisson or Midland or Great John Street…optional.
This tour is ideal for private groups!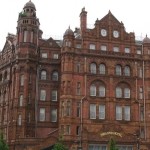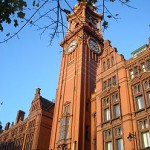 "It's candlelight and chandelier/It's silver plate and crystal clear/The nights we stay at hotel grand."
**STOP PRESS**
Rolls and Royce did NOT meet at the Midland Hotel. If any tour guide tells you they did, they've not done their research properly. The cliched claim, visible on two plaques at the front of the hotel, comes from a throwaway remark that has been handed down through the generations till by wishful thinking it has become "fact".
No one challenged this canard until New Manchester Walks's Ed Glinert (the tour guide and author who, incidentally, solved the Jack the Ripper mystery) did a bit of simple research, at which point the whole edifice tumbled down. For some reason the Midland Hotel aren't happy to hear this. Tough! They're going to have to comply some time, as transport groups, historical societies and even Rolls Royce themselves come to accept our findings.
Yes, we at New Manchester Walks like to tell you the accurate story, not the easy one. But don't let that put you off your tea. Book onto our tour and then book afternoon tea at the Midland or Radisson.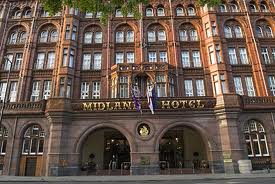 More hotely stuff
Once there was only the Midland. There was nowhere else grand to stay in Manchester; well apart from the Grand. Now there's the Britannia, the Palace, the Great John Street Boutique Hotel, the Radisson, the Hilton and the Lowry. Five star and four star; penthouse and pavement; suites laden with stars, express lifts, chic restaurants, banqueting rooms and conference centres. Afternoon tea perhaps a necessary extra.
Some of the grand hotels of Manchester have had an earlier use or even a later use. The Grand itself was a cotton warehouse. It is now an apartment block. The Britannia was the grandest Victorian cotton showroom. The Palace was the Refuge Assurance building, the most exquisite office block in the city.
The Great John Street Boutique Hotel used to be a drinking den for the stars of Coronation  Street. The Radisson was the Free Trade Hall, the most important building in Manchester history, erected to commemorate how the city became rich. The Hilton and Lowry are those rarities, new builds created as grand hotels.
We will stop for a nod at the concierge at each, hear a tale or two of fine living and VIP visitations, and then move quickly to the next before we get charged for room service. Should you ever been in need of laying down your head for the night in Manchester in the finest surroundings at least you'll be spoilt for choice.