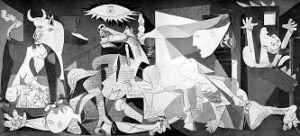 We have gathered together some of the strangest stories of Salford and Strangeways:
The sumptuous Cliff conservation area.
The Manchester area's most obscure (and homely) pub.
Manchester United's alternative home.
The house where the Manchester area's first important scientific achievement took place.
The site of Jimmy Savile's run-down and eerie lair.
The former HQ of the British Union of Fascists. (You won't believe what it is now!).
The car showroom where Guernica (yes, the real one) was displayed in the 1930s.
The most frightening and notorious prison in the country.