This tour: Sunday 2 April 2023, 2pm.
Meet: Outside the Mercure Hotel, Piccadilly Gardens/Portland Street.
Booking: Please press here to register with Eventbrite.

Sharper than the Beatles, funkier than the Stones, cleverer than the Who, funnier than Madness, more sensual than Kate Bush, better-looking than Jesus & Mary Chain (okay, not hard), they were the Smiths and they came from Manchester.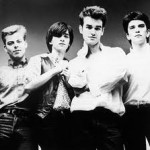 This is the full unremitting tour. No punches pulled. No hiding away from the difficult stories. No ignoring the Moors Murders and the dark connections between those horrific crimes and the themes that dominated the group's early music.
It's impossible to understand Manchester without understanding the Smiths, and it's impossible to understand the Smiths without going on this tour. Accept yourself no substitute.
Watch Ed Glinert taking the Manchester Evening News on the tour here:
http://www.manchestereveningnews.co.uk/whats-on/arts-culture-news/smiths-walk-held-mark-shelagh-8158588