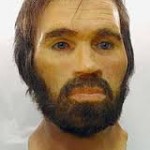 Put on your sturdy footwear to join our resident guide Steve Bourne for a walk through Wilmslow, followed by a spot of "bog-trotting" around Lindow Moss – a place made famous by the discovery of the "Lindow Man" in the mid-1980s.
Dating back to the Ice Age, this eerie place has been occupied for 6,000 years and still holds dark secrets. Neolithic flint tools have been discovered here. Charcoal found in the area has been dated from 3970 BC, suggesting that clearing and burning took place at that time.
We begin at Wilmslow station, passing by the village to hear about a selection of celebrities from Tudor times to the present day. These include the "Early Tudor gentleman" Humphrey Newton, subject of Deborah Youngs' acclaimed book, which was the first comprehensive biography of a member of 'lesser' gentry in those days. Wilmslow has links with Tudor royalty of course: The Boleyn family name is derived from Boleyn Hall, which once overlooked the river we now know as the Bollin.
We also visit the recent site of Britain's smallest tourist attraction, in memory of the nation's first ever countryside and nature broadcaster and author known as "Romany" who lived in Wilmslow while entertaining the nation with his Nature programmes on BBC radio in the 1930s & 40s. When he died in 1943, schools across Britain closed for a day of mourning. We'll then move on to view a mural depicting the legends of nearby Alderley Edge, brought to life in books by local author Alan Garner.
A much earlier celebrity was Lindow Man or "Pete Marsh" as he became known. His official name is actually "Lindow II", as other human remains have also been found preserved here. His body was discovered in 1984 by workmen who were cutting peat. His remains were carefully transported to the British Museum for extensive examination by a team of scientists.
Their research has allowed us to learn more about his health, his appearance, his last meal and how he might have died than any other prehistoric person found in Britain. The conditions in the peat enabled the man's skin, hair and many of his internal organs to be well preserved. Radiocarbon dating shows that he lived sometime between 27 BC and AD 119, and was approx. 25 years of age when he met a horrific death. Steve will tell us the gory details at the site where he was found. Below is an impression of his features, with his actual remains.
As we seek out pathways to traverse the Moss, we'll hear more stories of macabre happenings, including a murder from 1959 then head across Lindow Common (where medieval gypsies raced and traded horses. After approximately 3 hours we'll return to the centre of Wilmslow, no doubt ready for some freshly prepared food and a drink at the Artisan Market.