* No public tours yet
* To book privately, please e-mail info@newmanchesterwalks.com: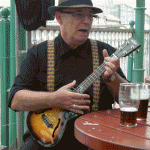 C. P. Lee is a Manchester institution and the world's leading expert on Manchester's famed film history – the 1950s Mancunian Film Company – as well as on the comic Frank Randle (catchphrase: "Bah, I've supped some ale tonight"). He also knows more than anyone on the planet about Manchester music arcana, and, most aptly, now that the Bard is 70+, Bob Dylan's controversial sojourns in Manchester.
He (C. P., not Dylan) was a member of the legendary 1970s maverick act Albertos Y Lost Trios Paranoias, a kind of Mancunian Mothers of Invention, but not quite so hairy. Now he is a lecturer in cultural studies at Salford University and can often be found appearing at Manchester venues, mostly Cornerhouse, loquaciously rendering a public speech or introducing a night of Mancunian movie madness.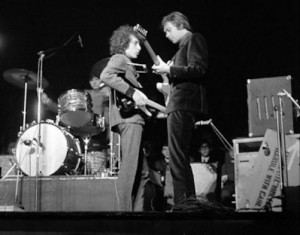 C. P. regularly leads walks on all manner of Manc music, specialising in Bob Dylan's 1966 appearance at the Free Trade Hall on 17 May that year, which culminated in the infamous "Judas" accusation, attributed to two different concert-goers.
C. P. peers into the background of the tour, why the greatest songwriter of the 20th century caused such uproar with his conversion to electric rock, and reveals the strange story behind the apostatic accusation. He might also play a few strains of an old song, and sing a bar or two.
Most walks starts at Cornerhouse and end positively 4th street.